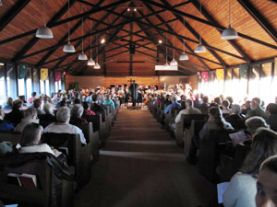 The Beaverton Symphony Orchestra, formerly known as the Beaverton Chamber Symphony, was founded in 1984 by Dr. Charles Encell and based on the philosophy that the group would provide a place for amateur musicians to play great music and share it with the Beaverton community at affordable prices. For nearly twenty-five years, Dr. Encell led the group of approximately 50 local musicians in three concerts a year, performing a wide variety of classical music. Upon Encell's retirement in the spring of 2008, he received a Lifetime Achievement Award from the Beaverton Arts Commission for his work establishing and leading the Beaverton Chamber Symphony for more than two decades.
The 2008-09 season saw a series of guest conductors lead the group, while the orchestra's Board of Directors conducted a search for a new Music Director. Ultimately, the board and musicians together selected Travis Hatton, widely known to Portland audiences through his conducting work with numerous Portland area musical groups. Mr. Hatton took the baton during the summer of 2009 and made his first appearance with the orchestra the following autumn, conducting its 25th anniversary concert.
Since Mr. Hatton's debut, the orchestra has gone in exciting new directions: establishing a youth concerto competition, broadening community involvement, adding new performance venues, and programming seldom-heard works in addition to standard symphonic repertoire.