Sunday, September 17, 2017 at 3:00 pm
The Beaverton Symphony Orchestra will present a free Welcome Week multicultural concert working in partnership with Village Baptist Church, refugee and immigrant advocacy organizations, cultural groups, and neighborhood associations to invite and engage Beaverton community members from around the world as both guest performers and audience.
The Symphony of Cultures concert was inspired by a "solidarity" concert conducted in Berlin, Germany by three professional symphony orchestras who united to welcome refugees to Germany from Syria and other war-torn regions of the world. Moved by news of that concert, the Beaverton Symphony Orchestra sought to create a similar event to welcome and appreciate the wonderful contributions of refugees and immigrants in our community.
The concert will feature performances by representatives of different ethnic traditions and members of the Beaverton Symphony.
Preview the printed program.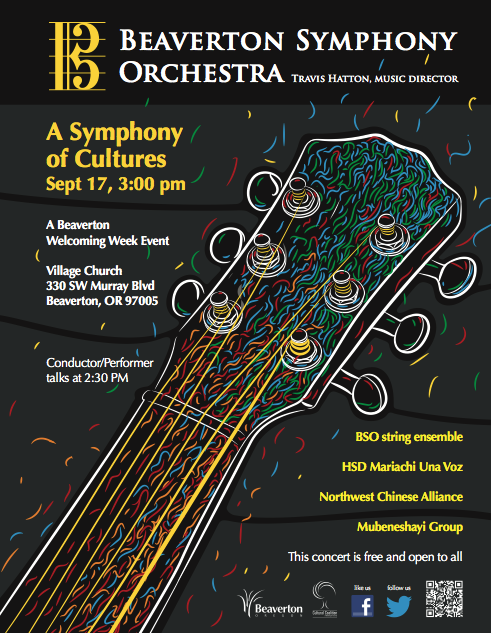 LOCATION (click for map and directions):
VBC Grand Auditorium at Village Baptist Church
330 SW Murray Blvd, Beaverton OR