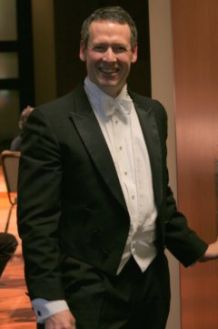 Thank you for visiting the Beaverton Symphony Orchestra website. I hope that you will find it informative, and that you will decide to become involved with our organization. I would like to invite you personally to attend one of our concerts and become a supporter, or maybe a volunteer. We are growing, and it's all because of people like you. I am thrilled to be the Music Director of the BSO, in part because of the interest community members have shown in the growth and well-being of this organization.
As the Music Director, I pledge to present the orchestra in public performances, playing some of the very best music ever written. I hope that you will find the variety of music to be not only interesting, but also thrilling and moving. We all know that music has the potential to transport the listener, and I promise that achieving this at every concert will be my top priority.
I believe that every healthy community needs healthy performing arts organizations, and Beaverton is no exception. We at the BSO want very much to do our part to make this city a great place. Please join us and be a part of what promises to be an exciting and fulfilling adventure.
Travis Hatton
www.travishatton.com